I was invited to speak at the University of Maryland this Friday, September 9, 2011 from 1-3PM.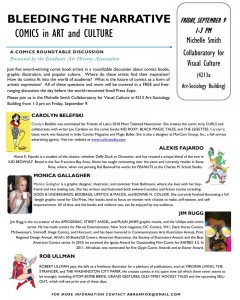 Bleeding the Narrative: Comics in Art and Culture
Panelists:
Jim Rugg, Robert Ullman, Monica Gallagher, Alexis E. Fajardo, Carolyn Belefski
The University of Maryland is in College Park, MD, 20742. The roundtable will be in the
Michelle Smith Collaboratory for Visual Culture
, which is on the 4th floor of the Art-Sociology Building.
I will be discussing my work, visual style, technique, inspiration, storytelling, career background, art direction, graphic design, illustration, freelance, and comics.
Open to the public. Hope to see you there and at
SPX
this weekend! Fear the
turtle
.