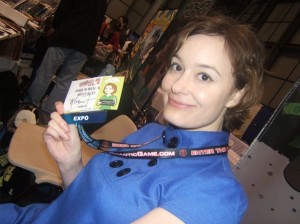 Carolyn Belefski has been accepted to exhibit at New York Comic Con's Artist Alley on October 13-16, 2011.
New York Comic Con is the East Coast's biggest and most exciting popular culture convention and Curls Studio is very excited about expanding our tour to NYCC's four-day extravaganza this year.
We will be updating the website with more info as we get it and Carolyn Belefski and Joe Carabeo hope to meet you in the Big Apple this October!
Here are some links to our previous NYCC experiences:
2010 Panel - The Other Side of the Table: Lessons from Creators
2010 Recap
2009 Recap
2008 Recap
CONVENTION FILMS
by Astray Productions
New York Comic Con 2010 Panel - "The Other Side of the Table: Lessons from Creators
New York Comic Con 2009
New York Comic Con 2008