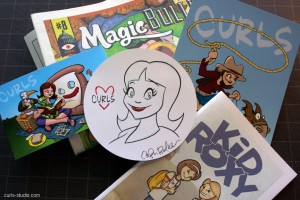 In celebration of reaching 1,000+ followers on Twitter, I'm giving away a bundle of goodies, including:
- Curls original signed art
- Kid Roxy #1 comic (written by Joe Carabeo with art by Carolyn Belefski)
- Curls Cowgirl print
- Curls postcard
- Magic Bullet #8
One winner will be announced in one week (June 8). The winner must be following @CarolynBelefski on Twitter.
To enter, all you have to do is follow me and RT this tweet: https://twitter.com/CarolynBelefski/status/473174922484006912
In celebration of 1,000 Twitter followers, I'm giving away original Curls art, Kid Roxy, and more! RT to enter. http://t.co/m6V2SLhnry
— Carolyn Belefski (@CarolynBelefski) June 1, 2014
Thanks to everyone for your support on Twitter. XOXO, Carolyn
Subscribe to Curls!