I was asked by Theater J in the DC Jewish Community Center to attend a play and went to the first DC area public performance of
The History of Invulnerability
on Wednesday, June 6, 2012. After the performance, there was a 15 minute Q&A with the artistic director and playwright. I did this
Curls
strip about the play and was inspired by the colors and the character of Jerry Siegel, the co-creator of Superman. If you look close, you'll be able to see Curls, Toast, and Turtle Neck enjoying the play, Mystery Science Theater 3000 style. I don't want to tell too much more about the play, because I'd give away too much!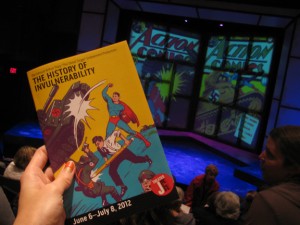 The DCJCC is providing the code
"DCCOMICS"
to my friends and readers - tell them Carolyn Belefski sent you. This saves you $10 on any performance (the play ends on July 8th). The code can be used either online at theaterj.org or by calling 800-494-4897.
I will be a panelist for "Beyond the Stage: The History of Invulnerability" post-show discussion on Sunday, July 8 at 5:15PM for "Comics in the District: A Discussion with Local Creators." This panel will be free for all to attend.
Washington District of Columbia Jewish Community Center
1529 16th Street, NW
Washington DC 20036
Here is some more information about the play:
Behind every great superhero is a determined creator. In 1930s America, that creator was usually a young Jewish man with an active imagination. Katz's play illuminates the story of Jerry Siegel — the brains behind Superman's brawn—and the imagined struggle between the creative father and his uber-mensch son. Siegel wrestles to retain control of his famous comic book sensation as America is drawn into WWII. Recommended for ages 16 and up due to mature themes and brief, modest nudity.
If you see the performance, let me know what you thought!
Thanks,
Carolyn
Subscribe to Curls!